Last Updated: 4/22/13


ALL SECRET CINEMA PRESENTATIONS ARE SHOWN IN 16MM FILM ON A GIANT SCREEN (NOT VIDEO...NOT EVER!)
---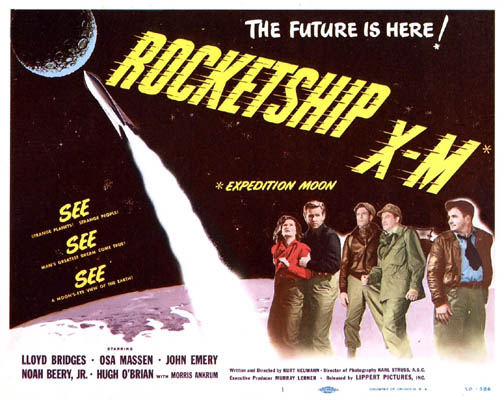 Early space travel feature Rocketship XM,
at "PAFA After Dark"
Thursday, May 2, 2013
6:00 pm until 9:00 pm (whole event)
Admission: $10 in advance, $15 at door, FREE for PAFA members
Pennsylvania Academy of Fine Arts
118 N. Broad Street, Philadelphia
215-972-7600
On Thursday, May 2, the Secret Cinema will be at the Pennsylvania Academy of Fine Arts, to participate in their popular PAFA After Dark series. The theme this evening will be "Spaced-Out," with a variety of activities that reflect on our rich history of celestial exploration, on the eve of National Space Day. Fittingly, we will present the 1950 science fiction film Rocketship XM, the first film of its era depicting practical space travel. Our presentation will use the original, full version of the film, which is rarely shown today -- complete with red tinting effects for scenes on the planet Mars. We will also show a surprise, space-themed short film.
PAFA After Dark runs from 6:00 pm through 9:00 pm. We're actually not certain at press time when the film starts -- probably around 7:00 -- but come on time, so you can sample some of the other fun stuff on offer: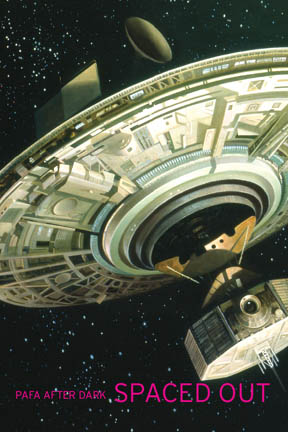 Play with light and shadows and take home your own Self-Portrait Silhouette
Sign up for special Flashlight Tours of the Historic Galleries
Join the Space Bingo Tournament and sip a Cosmos, the evening's signature cocktail
Enjoy free, fresh popcorn all night for your movie viewing pleasure!
And more fun surprises!
Space is limited. Admission is $10 in advance, $15 at the door (or FREE for PAFA members).
A complete description of the feature follows...
Rocketship XM (1950, Dir: Kurt Neumann)
B-movie studio Lippert Pictures rushed Rocketship XM into production, explicitly to beat Destination Moon onto theater screens. That higher-toned release, in full color with a much bigger budget and superior special effects from stop-motion master George Pal, was one of the most anticipated of 1950s films -- and a huge hit. Yet Lippert, normally an assembly line of routine programmers, did indeed cash in by releasing the first feature of the space age to depict rocket travel as a practical reality. What surprises many viewers is that more than just being the first, Rocketship XM may in fact be the superior film.
Being the first of its kind, its story was simple: a crew (led by Lloyd Bridges) on board the first flight to the Moon is thrown off course by a meteor storm, and forced to land on Mars. There they encounter a primitive race, and the film begins to take a surprisingly dark tone.
Some significant talent worked on the project. The soundtrack was written by Ferde Grofé, who besides scoring several films, was an accomplished jazz arranger and classical composer (most famously for "Grand Canyon Suite"). Cinematographer Karl Struss had worked for D.W. Griffith and F.W. Murnau (and won the first Oscar for his work on Murnau's Sunrise). One ingenious photographic touch was also economical. While Rocketship XM could not afford Technicolor, the scenes that depict Mars were tinted red, to striking effect. Most modern video copies get this color effect completely wrong (using sepia toning rather than red tinting), and worse, insert modern special effects footage shot in 1976 by a later producer. We will show the all-original version of the film, with the correct color effect.
---
SAVE PHILADELPHIA'S LAST MOVIE PALACE...
Stay informed!
The Friends of the Boyd have a Facebook page. We encourage you all to visit and "like" them, and pass on this message...
The very survival of Philadelphia's last premiere motion picture palace is at stake! Almost every other US city has restored and reopened at least one downtown movie palace for public enjoyment such as live entertainment and movie events. As an Art Deco showplace, the historic Boyd Theatre was open for 72 years, and must reopen!
SPREAD THE WORD by clicking "like"
Official site of the Friends of the Boyd - www.SaveTheSameric.org
---
FUTURE SECRET CINEMA EVENTS (more info soon):
Saturday, April 27 @ Bastard Film Encounter, Raleigh, NC (presentation at film symposium!)
Saturday, May 11, 2013 @ Montgomery County Community College: Betzwood Silent Film Festival
Thursday, September 25 2013 @ Eastern State Penitentiary: TBA
Date/Venue to be announced - Films from the Orgone Archive (someday, honest!)
---
If you'd like to subscribe to announcements of upcoming Secret Cinema events, then e-mail us by clicking HERE. Please specify in your message where you are located.
Click HERE to learn the history of Secret Cinema.
Click HERE to read about recent Secret Cinema events.
RELATED LINKS:
NEW! Channel 29 news piece on Secret Cinema from 1999!
Secret Cinema 1999 Annual Report
Secret Cinema 1998 Annual Report
Secret Cinema 1997 Annual Report
Information about the 1998 Secret Cinema "Class Trip" to the Syracuse Cinefest
---
Last Updated: 4/22/13
WebMasters: Rodney Linderman & Jay Schwartz
© copyright 2013