Last Updated: 9/24/17


ALL SECRET CINEMA PRESENTATIONS ARE SHOWN IN 16MM (or larger!) FILM ON A GIANT SCREEN (NOT VIDEO...NOT EVER!)
---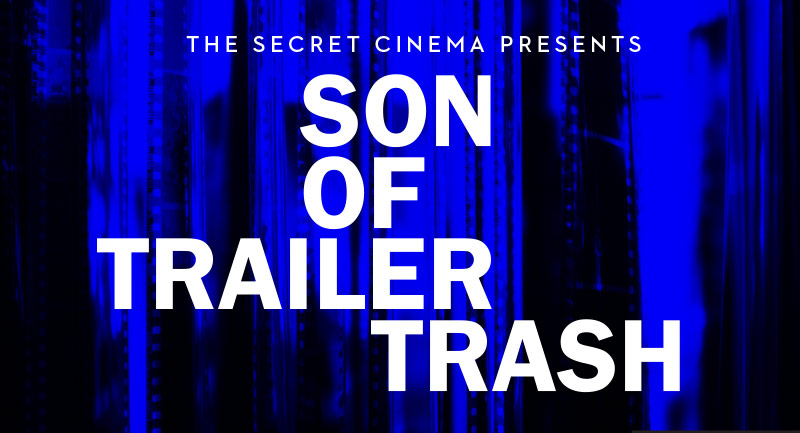 Son of Trailer Trash in 35mm
at Bryn Mawr Film Institute
Friday, September 15, 2017
8:00 pm (doors open 7:00 pm)
Admission: $10 online, $12 at the door.
Bryn Mawr Film Institute
824 W. Lancaster Avenue, Bryn Mawr, PA
(610) 527-9898
Thursday, September 28, 2017
7:30 pm
Admission:$12.50, $6.50 (members), $10 (seniors/students)
The Secret Cinema will follow up on perhaps its biggest presentation ever on Thursday, September 28, when it presents Son of Trailer Trash on the big screen at the Bryn Mawr Film Institute. Like the original Trailer Trash program (presented at BMFI last May), this all-new program is a non-stop orgy of rare, original preview "trailers" advertising some of the Secret Cinema's favorite films of the 1960s and '70s -- exploitation, sexploitation, science-fiction, bikers, horror, rock musicals, beach movies, and unclassifiable movies. All will be shown from archival 35mm prints (with several in true, IB Technicolor) on the BMFI's gigantic screen, along with vintage drive-in messages, theater commercials and date strips, from the 1950s and beyond.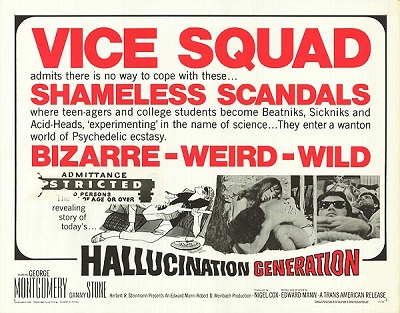 A sampling of the many trailers to be shown includes Invasion Of The Bee Girls, Riot On Sunset Strip, The Third Sex, Bedazzled, The Big TNT Show, Psycho, Hallucination Generation, The Devil's Wedding Night, and many, many more. There will be some guaranteed surprises, not to mention several movies that nobody has ever heard of! The combined giant cast this time includes Nancy Sinatra, Frank Sinatra, Rock Hudson, Maurice Chevalier, The Byrds, Simone Signoret, George Jones, Frankie & Annette, Bob Denver, George Raft, Peter Cushing, Linda Blair, and Francoise Hardy. Son of Trailer Trash was directed by a huge team of greats and less-than-greats which includes John Frankenheimer, Russ Meyer, Alfred Hitchcock, Stanley Donen, and Chuck Barris (we feel all those cited here qualify as greats).
There will be one complete show at 7:30 pm. Admission is $12.50, $6.50 (BMFI members), $10 (seniors and students).
Throughout 2017, the Secret Cinema will be celebrating its 25th anniversary, presenting favorite programs from its past, as well as several all-new presentations, in venues throughout the Philadelphia area. Son of Trailer Trash was first presented at the Prince Music Theater in 2002.
---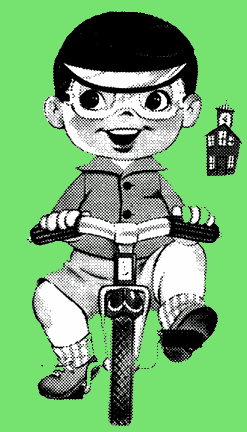 The Secret Cinema Afterschool Special:
School Life and Moral Guidance in the '70s & '80s
Friday, October 6, 2017
8:00 pm
Admission: $9.00
The Maas Building
1325 N. Randolph Street, Philadelphia, PA
267-239-2851
Break out the Crayolas and circle Friday, October 6 on your inner child's appointment book -- that's when the Secret Cinema goes warm and fuzzy and presents The Secret Cinema Afterschool Special: School Life and Moral Guidance in the '70s & '80s at the Maas Building.
The program consists of several rare short films made for school projectors and television. While none of them are believed to be from The ABC Afterschool Special (which featured longer programs), some perhaps share that series' comforting and now nostalgic perspective on the problems of growing up.
T.S.C.A.S. is yet another in the continuing series of "Greatest Hits" presentations that we are dusting off this year, to mark 25 years of the Secret Cinema. It was originally presented in our very first season at Moore College of Art & Design, in 1997 (and revisited in 2002 with a packed screening at the Print Center).
There will be one complete show at 8:00 pm. Admission is $9.00.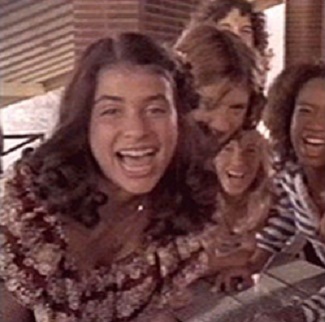 Some highlights of the program are:
Insight: The Party (1971) - Picture this...three high school couples make a weekend trip to the seaside home of someone's absent hipster uncle, with the primary objective of getting laid. A young Meredith Baxter (later Baxter-Birney of Bridget Loves Bernie and Family Ties) counsels her nervous, virgin friend ("Hey, don't get uptight... all you have to do is relax. You've got it all together -- you've got a guy you dig with experience, a fantastic pad, the ocean -- the whole thing!"), all as a very long-haired Billy Mumy (Lost in Space, Bless the Beasts and Children) sings and strums a James Taylor-ish love ballad in the background. This long-running series (25 years) was created by Catholic priest Ellwood E. "Bud" Kieser, for his Paulist Productions company.
In 2006, Mark Quigley and Dan Einstein of the UCLA Film & Television Archive presented a fascinating illustrated talk at the Orphan Film Symposium on this unusual series, called "A Meeting of Church and State: Television's Paulist Twilight Zone: Insight (1963-1980)" It can be listened to (minus illustrations) here and here.
Junior High School (1977) - A 40-minute featurette offering embarrassing musical slices of life in school, most notable for the appearance of a 14 or 15-year-old Paula Abdul (who gives a perky performance singing "We're Gonna Have a Party!"). The plot focuses on a Ricky Segall-lookalike who wears puka shells and frets over asking a girl to the dance, between countless painfully cloying songs, like a modern, shorter (but perhaps not better) Grease. The music was arranged by Julius Wechter, known to A&M Records fans as leader of the Baja Marimba Band.
The participation of Abdul, Wechter, and jazz composer Dave "Schoolhouse Rock" Frishberg (who appears as a rather sadistic shop teacher) marks this otherwise obscure film as having genuine "before and after they were famous" significance. However, we would be remiss if we did not point out an error in IMDB's listing for Junior High School: the cast member named Ira Kaplan did not go on to start the popular indie rock band Yo La Tengo.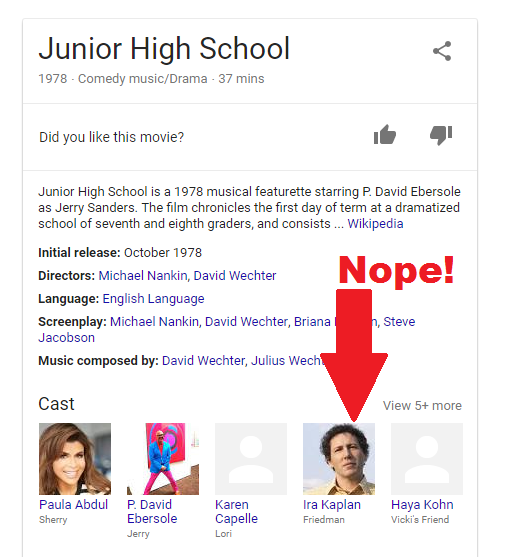 Revenge of the Nerd (1983, Dir: Ken Kwapis) - Not to be confused with that Anthony Edwards feature film you're thinking of (that was made one year later, and with plural Nerds), this charming short film was initially seen on CBS' Afternoon Playhouse series. It follows a similar (if more concise) plot arc, however, with the titular hero using his superior skills with early microcomputers and other high-tech devices in an attempt to gain the respect of his intellectually inferior classmates.
...and more!
The Maas Building was previously a brewery and a trolley repair shop. This beautifully restored 1859 brick and timber workshop today serves as a multipurpose art event and catering space. Free parking is available on the street and in the adjacent lot of the James R. Ludlow Elementary School.
---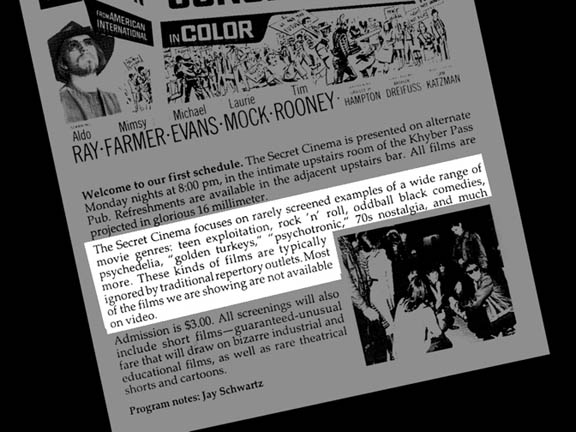 The Secret Cinema celebrates 25-year anniversary!
On March 9, 1992, a new idea in repertory cinema began in Philadelphia. That was the day of the very first screening of the Secret Cinema, at the Khyber Pass Pub in Old City. The series was created by Jay Schwartz, almost on a dare.
He had been a collector of 16mm film prints for several years, and he had brought his near-antique Devry projector into local music venues just a few times before, showing vintage musical shorts and cartoons before sets by friends' bands. The Khyber's newly appointed booking agent challenged Schwartz to program a regular series in the club's underused upstairs space. He went for it, and started a bi-weekly series on alternating Monday nights, which lasted for most of 1992.
This was a transitional time for repertory film screenings in Philadelphia. Classic and foreign films were still offered at the Roxy Screening Room, Temple Cinematheque, International House, Villanova University, Chestnut Hill Film Group and David Grossman's Film Forum, but repertory powerhouse TLA Cinema/Theater of the Living Arts had stopped showing film entirely, selling their South Street theater to concentrate on the exploding home video business. And some smaller presenters were basing their "film series" around programming shown entirely from VHS tapes. The Philadelphia Festival of World Cinema did not yet exist (though it would launch later that same year).
Schwartz intended to do things differently. He wanted to have quality film presentations using portable 16mm film equipment, but also wanted to program films that were outside of the scope of traditional repertory cinema. The first year of Secret Cinema relied, like other series, on feature films, but mostly cultish films no longer shown in theaters. As the first printed program calendar for the Khyber series put it, Secret Cinema categories might include "teen exploitation, rock 'n' roll, oddball black comedies, psychedelia, "golden turkeys," "psychotronic," '70s nostalgia and much more. All screenings will also include short films -- guaranteed-unusual fare that will draw on bizarre industrial and educational shorts, as well as rare theatrical shorts and cartoons."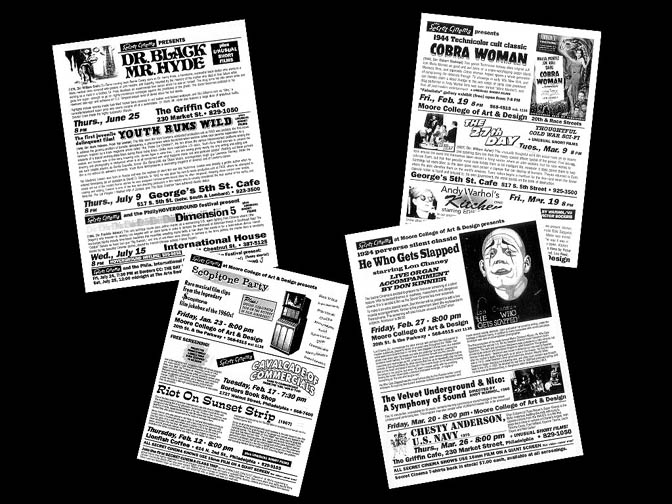 After 1992, the Secret Cinema began to expand its screenings to more venues around the city, including other bars, music nightclubs and coffee houses. Eventually the venue categories grew to include art galleries, college campuses, theaters, libraries, bookstores, museums, and outdoor fields and parks. Secret Cinema programs were added to local film festivals, and Schwartz was soon invited to bring films to places beyond the Philadelphia region. To date, the Secret Cinema has presented films in 112 different venues or festivals, in ten cities and three countries.
Many Secret Cinema screenings after that first season consisted of themed groupings of short films, in every possible category. To make these unique programs possible, the Secret Cinema's private film archive grew exponentially. Initially, the collection fit easily in a small closet. Today, it resides in a large, climate controlled workshop/warehouse, and comprises thousands of reels of 16mm and 35mm film, totaling a few million feet of film (an exact count is not known, though a master inventory is in the works).
Today, the Secret Cinema continues to show a variety of film programs in an assortment of venues, year round. Much has changed in the world of filmgoing, and indeed the world, since we began this project. The internet has reduced or eliminated much of the traditional press upon which we relied, for most of our existence, to reach new audiences. It has also replaced movie theaters and video stores for many movie fans, and all remaining movie theaters have needed to convert either wholly or partially to digital projection. Nearly all of the past presenters of old films noted earlier have ceased operations.
However, the Secret Cinema's mission is unchanged. We still aim to showcase films that audiences would not see if we did not show them, and we still show all of them by showing celluloid film prints. Our records are not complete enough to provide an exact count, but we have probably presented in the neighborhood of 1000 different screenings, each one containing from two to 45 separate films -- and not one of these were shown using video or digital cinema systems.
To celebrate our 25th birthday, through the rest of 2017 we will revive several of our most popular programs, as well as continue presenting brand new programs. Our first anniversary program will happen on Friday, March 10, when we return to the Maas Building to show The Best of Secret Cinema Short Films: The Early Years. This collection of miscellaneous audience favorites will include only films that we presented in our first five years. Other anniversary programs will be announced soon.
Jay Schwartz and the Secret Cinema would like to thank everyone who helped us make it this far: Thanks to everyone in the press who gave us free publicity many hundreds of times (special shout-out to Steven Rea, who gave us our very first press notice, and who just left the Inquirer after 34 years of service to movie fans, as well as the various writers and editors of the City Paper, the 2015 cessation of which dealt a terrible blow to all of the city's arts providers). Thanks to everyone who let us take over their venue for one or more nights, often turning their establishment upside-down for our own purposes (we tried to put things back in place at the end of the night, though!). Thanks to everyone who worked the box office or helped us pack up our considerable amount of equipment (especially my beautiful wife Silvia, who regularly does both). And thanks most of all to every member of our audience, whether they attended once or came back faithfully year after year. We couldn't have done it without you.
---
FUTURE SECRET CINEMA EVENTS (more info soon):
Tuesday, October 17, 2017 @ The Woodmere Museum (Chestnut Hill Film Group): The Story of a Three-Day Pass
Friday, November 1017, 2017 @ Fleisher Art Memorial: TBA
Tuesday, November 28, 2017 @ The Franklin Institute: Special "Science After Hours" film program TBA!
---
If you'd like to subscribe to announcements of upcoming Secret Cinema events, then e-mail us by clicking HERE. Please specify in your message where you are located.
Click HERE to learn the history of Secret Cinema.
Click HERE to read about recent Secret Cinema events.
RELATED LINKS:
Channel 29 news piece on Secret Cinema from 1999!
Secret Cinema 1999 Annual Report
Secret Cinema 1998 Annual Report
Secret Cinema 1997 Annual Report
Information about the 1998 Secret Cinema "Class Trip" to the Syracuse Cinefest
---
Last Updated: 9/24/17
WebMasters: Rodney Linderman & Jay Schwartz
© copyright 2017