Last Updated: 4/6/16


ALL SECRET CINEMA PRESENTATIONS ARE SHOWN IN 16MM FILM ON A GIANT SCREEN (NOT VIDEO...NOT EVER!)
---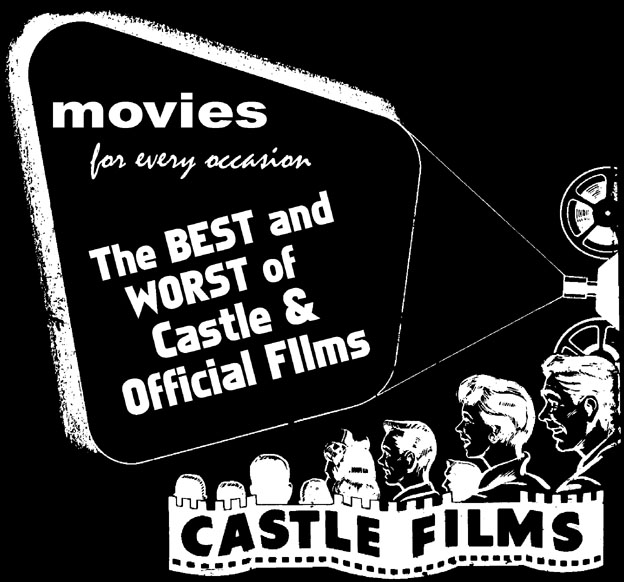 Movies for Every Occasion: The Best and Worst of
Castle and Official Films at Maas Building
Friday, April 15, 2016
8:00 pm
Admission: $9.00
The Maas Building
1325 N. Randolph Street
Philadelphia
267-239-2851
On Friday, April 15, The Secret Cinema will return to the beautiful Maas Building with a new program called Movies for Every Occasion: The Best and Worst of Castle and Official Films. Culled from the depths of the Secret Cinema archive, it will highlight the abundant and varied output of two companies that were pioneers in home entertainment.
For four decades starting in 1937, Castle Films and Official Films released hundreds of unique short subjects sold (through mail order, camera and department stores) to owners of 8mm and 16mm home movie projectors. Long before home video, consumers could buy their own film prints of travelogues, cartoons, sports reels, musical shorts, newsreels and much more. While home editions of Hollywood-made cartoons and comedy short subjects were popular, and highlight reels of Universal horror features doubly so, many of their best-selling titles were original productions -- with many earlier releases made by Castle founder Eugene Castle himself (Official Films, founded in 1939 by freelance cameraman Leslie Winik, was pretty much a direct copy of Castle's business model).

Often amusingly dated, but just as often surprisingly captivating, the 9-minute reels from these two companies have enlivened many Secret Cinema programs over the last quarter-century (yes, we are now in our 25th year!). Yet, this will be our very first program exclusively devoted to these two former giants of movies in the home, and will include favorites from previous screenings as well as several titles never before shown. And as an added attraction, deluxe Castle Films t-shirts will be available for sale!
There will be one complete show at 8:00 pm. Admission is $9.00. Beer and refreshments will be available at the screening.
A few highlights from Movies for Every Occasion… include: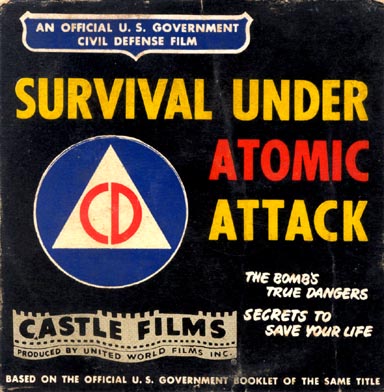 Fishing Vagabonds (1955) - Castle and Official each released countless sports-themed topical films, aimed at the dads who were presumably the operators of their family's home movie equipment. This is a typical fishing short, but unlike most was shot in blazingly-saturated Ansco Color. The choice helped to show off not only angling technique, but also the fishermen's bikini-clad boatmates, who do their best to stay out of the way. The narrator notes, "Our heroine makes a smart decision…this is man's work!"
The Chimp's Adventure (aka Monkey Shines, 1934) - The "Chimp" series of comedy shorts were a staple of Castle Films catalogs for many years. They all depicted an actual chimpanzee wandering around the civilized world and getting mixed up in various mischief. This was the first entry in the series, shot on location in Manhattan, and was originally released by Paramount for their "Shorty the Chimp" series. Castle's generic "The Chimp…" retitling allowed them to keep the franchise going after the Paramount series ended, later substituting films featuring television star Zippy the Chimp.
Survival Under Atomic Attack (1951) - Castle released a series of eight "Official U.S. Civil Defense Motion Pictures" to instruct the population how to best survive nuclear war. These films were sold at a slight discount form their usual prices, and also included titles such as Disaster on Main Street, What You Should Know About Biological Warfare, and the ever popular Duck and Cover. "Let us face the realities of our times…"
Atlantic City (1951) - Castle made countless travel films, showcasing exotic lands across the globe, but this one was made closer to home. The seaside resort was shown in all of its pre-gambling glory, with views of long-demolished, palatial hotels, the boardwalk and its rolling chairs, restaurants Hackney's, Mammy's, and the Knife & Fork Inn, and a Miss America parade.
Let's Sing a Western Song (1947, Dir: Harold James) - From Universal's theatrically-released Sing and Be Happy series, one of many "bouncing ball" sing-along films, this one featuring Fred Waring and his Pennsylvanians. Feel free to join in (and be happy!).
Roaring Wheels (1952) - A look at all kinds of fast-moving vehicles, including gas-powered miniature cars, midget race cars, soap-box derby cars, dirt bikes and experimental vehicles at the Bonneville salt flats.
Four Melodies in Allegretto (1940s?) - "A free interpretation of four musical compositions whose themes are based on animal life." That's a rather high-falutin' introduction to what is actually a super-low budget production made to showcase the cuteness of kittens and baby chicks (and stock footage of…bees?). All of their activity ostensibly occurs in the dreams of a sleeping little girl, who favors the music of Mussorgsky and Saint-Saens. Castle and Official films were rarely pretentious, but is seems there were exceptions.
Castle Quiz Game: Movies Greatest Headlines (1952) - An interactive film game n which the audience is tested on their knowledge of (then) current events, using newsreel clips and a ticking timer.
…and much more!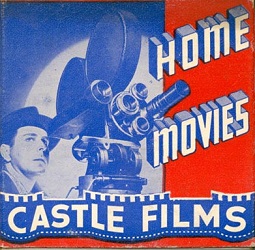 The Maas Building was previously a brewery and a trolley repair shop. This beautifully restored 1859 brick and timber workshop today serves as a multipurpose art event and catering space. Free parking is available on the street and in the adjacent lot of the James R. Ludlow Elementary School.
---
FUTURE SECRET CINEMA EVENTS (more info soon):
Saturday, May 7 @ Montgomery County Community College: Betzwood Silent Film Festival
Wednesday, May 25 @ Venice Island Performing Arts & Recreation Center: TBA
Friday, June 24 - Sunday, June 26 @ Baltimore, MD (various locations): Cinema Ephemera: The Festival of Useful Film
Thursday, July 21 @ Bryn Mawr Film Institute: Old Films About Old Films About...
---
If you'd like to subscribe to announcements of upcoming Secret Cinema events, then e-mail us by clicking HERE. Please specify in your message where you are located.
Click HERE to learn the history of Secret Cinema.
Click HERE to read about recent Secret Cinema events.
RELATED LINKS:
Channel 29 news piece on Secret Cinema from 1999!
Secret Cinema 1999 Annual Report
Secret Cinema 1998 Annual Report
Secret Cinema 1997 Annual Report
Information about the 1998 Secret Cinema "Class Trip" to the Syracuse Cinefest
---
Last Updated: 4/6/16
WebMasters: Rodney Linderman & Jay Schwartz
© copyright 2016