Last Updated: 7/28/16


ALL SECRET CINEMA PRESENTATIONS ARE SHOWN IN 16MM FILM ON A GIANT SCREEN (NOT VIDEO...NOT EVER!)
---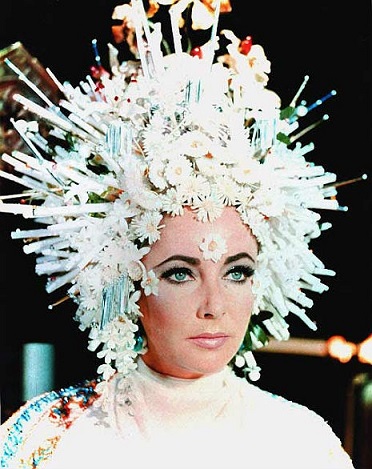 17th AIDS Law Project movie party goes Boom!
Friday, August 19, 2016
6:00 pm: party with food & drink
7:30 pm: movie starts
Admission: $20 in advance, $25 at door
William Way Community Center
1315 Spruce Street, Philadelphia
TICKETS/INFO: 215-587-9377
"Boom! is beyond bad, the other side of camp…a film so genuinely beautiful and awful that there is only one word to describe it: perfect." - John Waters
On Friday, August 19, the Secret Cinema will return to the William Way Community Center to help present the 17th annual summer movie party for the AIDS Law Project of Pennsylvania. The festivities will once again feature food, fun and film, including a screening of Boom! -- a one-of-a-kind, art/camp explosion of ripe dialogue and acting histrionics that John Waters has frequently cited as his all-time favorite movie (and yes, the exclamation point is part of the film's title).
Boom! will be shown using an archival, dye-transfer, anamorphic widescreen print.
There will also be a surprise short subject. Film historian (and past movie party guest) Richard Barrios will introduce and discuss the feature.
The schedule is:
6:00pm - food, beer and drinks
7:30pm - movie screening
Tickets for all of this are just $20 in advance, $25 at the door.
A full description of the feature follows.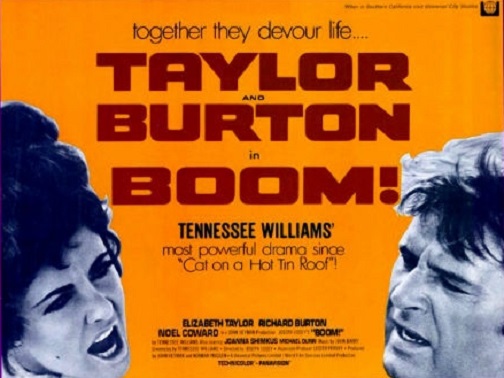 Boom! (1968 Dir: Joseph Losey)
"I have a test -- I can't fall in love with anyone who doesn't love this movie. I'd throw them out of my house." - John Waters
Never known for restraint in their career choices, Elizabeth Taylor and Richard Burton made a cycle of bickering film duets in the 1960s that saw their stock with critics suffer a steady decline. But none of these efforts made for a more delirious movie experience than Joseph Losey's Boom!, adapted from a Tennessee Williams' screenplay. Taylor plays Sissie Goforth, the "bloody bitch of the world," who lives in wealthy seclusion on an island near Sardinia. There she spends her days drinking, popping pills and screaming at her army of servants while wearing a variety of ludicrous kabuki outfits and a reported $2 million in jewelry. A mysterious poet (Burton) named "the Angel of Death" arrives one day, eluding the island's evil midget guard, and becomes the sounding board for Sissie's non-stop delivery of neo-beat aphorisms ("What's human or inhuman is not for human decision"). It all takes place in the surreally beautiful setting of a clifftop house of starkly minimalist design, captured in gorgeous, widescreen Technicolor. Sir Noel Coward appears in the brief but deliciously bitchy role of "the Witch of Capri." Audiences and film critics were not impressed in 1968, and Boom! Was one of the most notorious flops of its era. Forty-eight years later, after Post-Modernism, continually evolving concepts of "good" and "bad" art, and steady championing by John Waters -- who called Taylor's character "the ultimate drag queen role" -- Boom! Can be considered a kind of perverse masterpiece.
For more ticket information, call the AIDS Law Project at 215-587-9377.
About our guest speaker: Richard Barrios' last book Dangerous Rhythm: Why Movie Musicals Matter was reviewed by the New York Times, Wall Street Journal and Philadelphia Inquirer. He is also the author of A Song in the Dark: The Birth of the Musical Film, and Screened Out: Playing Gay in Hollywood From Edison to Stonewall. Richard Barrios has written on film for the New York Times, and provided commentary tracks for several DVDs.
About the AIDS Law Project: Founded in 1988, the AIDS Law Project of Pennsylvania is the nation's only independent public-interest law firm dedicated to AIDS and HIV. It has risen to the defense of more than 38,000 people free of charge, and has educated more than 40,000 others on AIDS-related legal issues. It works at local, state and national levels to achieve fair laws and policies.
---
FUTURE SECRET CINEMA EVENTS (more info soon):
Friday, September 9 @ Eastern State Penitentiary: THE INSIDE VIEW: SHORT FILMS ABOUT PRISON
Wednesday, October 19 @ American Philosophical Society Museum: TBA
Saturday, November 26 @ The Rotunda: TBA
---
If you'd like to subscribe to announcements of upcoming Secret Cinema events, then e-mail us by clicking HERE. Please specify in your message where you are located.
Click HERE to learn the history of Secret Cinema.
Click HERE to read about recent Secret Cinema events.
RELATED LINKS:
Channel 29 news piece on Secret Cinema from 1999!
Secret Cinema 1999 Annual Report
Secret Cinema 1998 Annual Report
Secret Cinema 1997 Annual Report
Information about the 1998 Secret Cinema "Class Trip" to the Syracuse Cinefest
---
Last Updated: 7/28/16
WebMasters: Rodney Linderman & Jay Schwartz
© copyright 2016