Last Updated: 5/2/22


ALL SECRET CINEMA PRESENTATIONS ARE SHOWN IN 16MM (or larger!) FILM ON A GIANT SCREEN (NOT VIDEO...NOT EVER!)
P>
---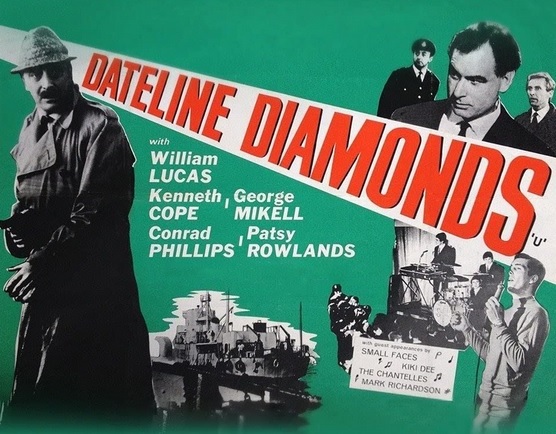 1965 British mod/pop/heist film
Dateline Diamonds
Thursday, May 12, 2022
8:00 pm
Admission: FREE
The Rotunda
4014 Walnut Street
Philadelphia
The Secret Cinema will return to the Rotunda on Thursday, May 12 to present the little seen 1965 British feature Dateline Diamonds. It's a quickly-paced, offbeat thriller about a jewel heist, set against a backdrop of the then headline-making phenomenon of pirate pop radio broadcasting -- and with appearances and performances by the Small Faces, Kiki Dee, and other Swinging London personalities.
Also shown will be surprise short subjects.
There will be one complete show at 8:00 pm. Admission is free.
Masking and contact tracing enforced. Seating is limited.
This screening is part of the Rotunda's ongoing "Bright Bulb Screening Series," which offers free movies on the second Thursday of every month, throughout the year.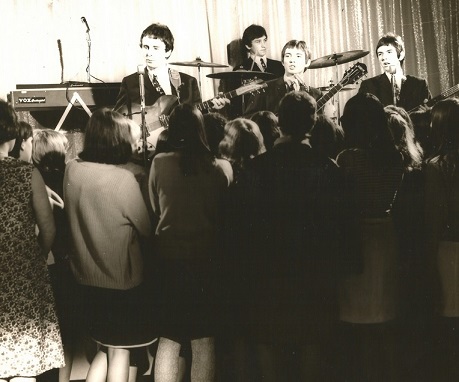 Dateline Diamonds (1965, Dir: Jeremy Summers)
The British Invasion, as spearheaded by the Beatles, made "Swinging London" the epicenter of mid-1960s rock 'n' roll. Yet from listening to staid BBC radio at the time, one would hardly be aware of this exciting cultural explosion. Pirate radio to the rescue! A few crafty entrepreneurs realized that they could skirt the Beeb's broadcasting monopoly and provide some timely competition by airing new, youth-oriented radio from ships anchored just outside the international waters boundary. Radio Caroline and Radio London were an instant sensation, listened to by thousands of pop-starved kids…until a change in regulations closed the legal loophole that allowed these "pirate stations" to thrive for three years. And that's the background against which someone decided to set a quickie b-movie about a jewel heist.
The plot is simple -- a pop band manager with a troubled past is blackmailed into taking stolen gems hidden inside a demo tape box to the radio station's ship, where they await transport to their next stop. But the music-themed backdrop allows for some fascinating cameos. The group the shady manager handles is none other than the Small Faces, the original, and reportedly most authentic "mod" band, who appear and perform songs both on and off screen (and in their earliest form, before Ian McLagen replaced Jimmy Winston on keyboards). Also showcased is stylish songbird Kiki Dee, best known in this country for her 1976 comeback duet with Elton John, "Don't Go Breaking My Heart," but a prolific singer of Motown-esque discs since 1963. Plus Brit girl group the Chantelles, Rey Anton and the Pro Form, who made a few collectible records, and Mark Richardson (about whom I can find no information!). The MV Galaxy, the actual ship used by the real Radio London for their offshore broadcasts, is seen in the film (in exterior shots only), and there are cameo roles for several Radio London staffers and d.j.'s, most notably Kenny Everett, who enjoyed a long career in British radio and television. Director Jeremy Summers made the Gerry and the Pacemakers vehicle Ferry Cross the Mersey the same year, and later helmed action films like The Vengeance of Fu Manchu and worked on several genre television series, such as Secret Agent, The Saint, Man in a Suitcase and Jason King.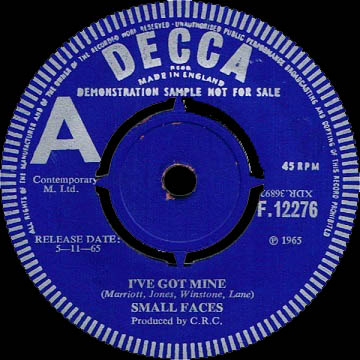 ---
FUTURE SECRET CINEMA EVENTS (more info soon):
Saturday, September 17 @ The Colonial Theatre, Phoenixville: Son of Trailer Trash (35mm)
Thursday, October 13 @ The Rotunda: TBA
rest of 2022: New venues coming, plus more about our 30th Anniversary!!
---
If you'd like to subscribe to announcements of upcoming Secret Cinema events, then e-mail us by clicking HERE. Please specify in your message where you are located.
Click HERE to learn the history of Secret Cinema.
Click HERE to read about recent (and not so recent!) Secret Cinema events.
Click HERE for the Secret Cinema Facebook page.
RELATED LINKS:
NEW! 2008 interview with Secret Cinema's Jay Schwartz from an academic journal
Channel 29 news piece on Secret Cinema from 1999!
Secret Cinema 1999 Annual Report
Secret Cinema 1998 Annual Report
Secret Cinema 1997 Annual Report
Information about the 1998 Secret Cinema "Class Trip" to the Syracuse Cinefest
---
Last Updated: 5/2/22
Webmaster: Jay Schwartz
© copyright 2022