Last Updated: 4/23/17


ALL SECRET CINEMA PRESENTATIONS ARE SHOWN IN 16MM FILM ON A GIANT SCREEN (NOT VIDEO...NOT EVER!)
---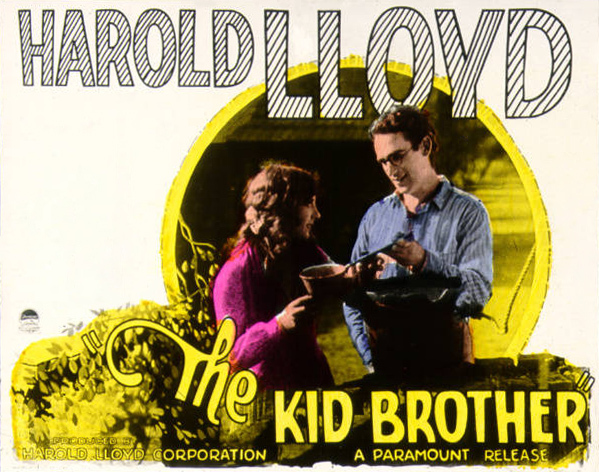 Silent Harold Lloyd comedy classic The Kid Brother
live music for Chestnut Hill Film Group
Tuesday, April 25, 2017
7:30 pm
Admission: FREE
Woodmere Art Museum
9201 Germantown Avenue, Philadelphia
(215) 247-0476
On Tuesday, April 25, the Secret Cinema will present the classic 1927 silent comedy The Kid Brother at the Woodmere Art Museum, as part of their ongoing Chestnut Hill Film Group series. The great Harold Lloyd plays a small-town underdog living in the shadow of his more successful older brothers -- but when some money is stolen from the town council, it's up to Harold to find the crooks and save the day. Lloyd combines comedy, action, a heartwarming story, and a mischievous monkey (!) in this delightful entertainment
Providing authentic live keyboard accompaniment will be Don Kinnier, who has played for nearly every previous Secret Cinema presentation of silent movies.
Before the feature, there will be a surprise short film from the Secret Cinema archive.
There will be one complete screening, starting at 7:30 pm (Doors open 6.30 pm). Admission is free.
The Chestnut Hill Film Group is Philadelphia's longest-running repertory cinema series.
About Don Kinnier:
The silent film era, from its tentative first steps to its final artistic masterpieces, lasted for about 35 years. Musician Don Kinnier has been accompanying silent film screenings for over 50 years! Pennsylvania's foremost exponent of this very specialized art form, he has studied the techniques and repertoires of the original theater musicians of the silent era. A Philadelphia native (now based in Lititz), Don has provided the soundtrack for the local Betzwood Film Festival since its inception, as well as for many Secret Cinema events.
---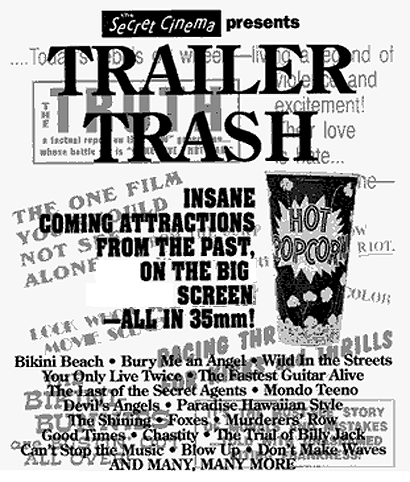 Trailer Trash in 35mm
at Bryn Mawr Film Institute
Thursday, May 11, 2017
7:30 pm
Admission:$12.50, $6.50 (members), $10 (seniors/students)
Bryn Mawr Film Institute
824 W. Lancaster Avenue, Bryn Mawr, PA
(610) 527-9898
On Thursday, May 11, the Secret Cinema will return to the Bryn Mawr Film Institute with a revival of one of its biggest presentations ever. It stars Elvis Presley, Sean Connery, Nancy Sinatra, Roy Orbison, Sonny & Cher, Jerry Lewis, Frank Sinatra, Linda Blair, Dean Martin, Cherie Currie, Tony Curtis, The Village People, The Yardbirds, and a cast of unknowns. It was directed by a team that includes Stanley Kubrick, Charlie Chaplin, Tom Laughlin, William Friedkin, John Boorman, John Cassavetes and several forgotten hacks. Its budget (adjusted for inflation) was in the hundreds of millions of dollars, it's in black and white and color, and it has laughs, screams, spies, monsters, sex, drugs, rock n' roll and bikinis. What is it?
Why, it's Trailer Trash, a non-stop orgy of rare, original preview "trailers" advertising some of the Secret Cinema's favorite films of the 1960s and 70s -- exploitation, sexploitation, science-fiction, bikers, horror, rock musicals, beach movies, bloated big budget bombs and possibly some films that no longer survive in feature form. All will be shown from archival 35mm prints (with several in true, IB Technicolor) on the BMFI big screen.
A sampling of the many trailers to be shown includes Bikini Beach, Bury Me an Angel, Wild in the Streets, You Only Live Twice, Mondo Teeno, Devil's Angels, Paradise Hawaiian Style, Foxes, Murderers' Row, Chastity, The Trial of Billy Jack, Blow Up and many, many more, with some guaranteed surprises.
As if this weren't enough, additional graphic eye candy will be provided in the form of vintage drive-in messages, theater commercials and date strips, from the 1950s and beyond.
There will be one complete show at 7:30 pm. Admission is $12.50, $6.50 (BMFI members), $10 (seniors and students).
Throughout 2017, the Secret Cinema will be celebrating its 25th anniversary, presenting favorite programs from its past, as well as several all-new presentations, in venues throughout the Philadelphia area. Trailer Trash was first presented at the Prince Music Theater in 2001.
Since 1992, the Secret Cinema has been the Philadelphia area's premiere floating repertory cinema series, bringing hundreds of unique programs to nightclubs, bars, coffee houses, museums, open fields, colleges, art galleries, bookstores, and sometimes even theaters and film festivals. Drawing on its own large private film archive (as well as other collections), the Secret Cinema attempts to explore the uncharted territory and the genres that fall between the cracks, with programs devoted to educational and industrial films, cult and exploitation features, cartoons, rare television, local history, home movies, erotic films, politically incorrect material, and the odd Hollywood classic. As long as it exists on real celluloid, that is -- Secret Cinema screenings never use video/digital projection. While mainly based in Philadelphia, the Secret Cinema has also brought programming to other cities and countries.
---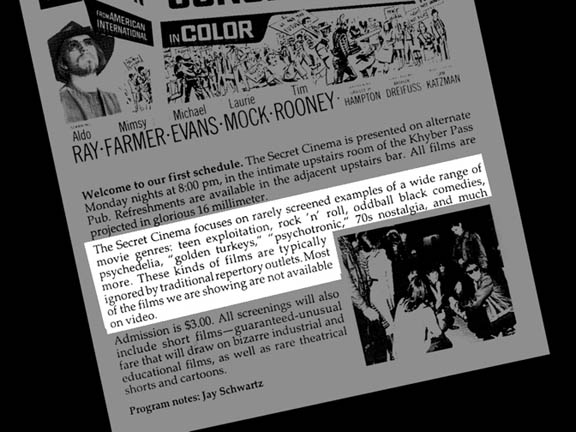 The Secret Cinema celebrates 25-year anniversary!
On March 9, 1992, a new idea in repertory cinema began in Philadelphia. That was the day of the very first screening of the Secret Cinema, at the Khyber Pass Pub in Old City. The series was created by Jay Schwartz, almost on a dare.
He had been a collector of 16mm film prints for several years, and he had brought his near-antique Devry projector into local music venues just a few times before, showing vintage musical shorts and cartoons before sets by friends' bands. The Khyber's newly appointed booking agent challenged Schwartz to program a regular series in the club's underused upstairs space. He went for it, and started a bi-weekly series on alternating Monday nights, which lasted for most of 1992.
This was a transitional time for repertory film screenings in Philadelphia. Classic and foreign films were still offered at the Roxy Screening Room, Temple Cinematheque, International House, Villanova University, Chestnut Hill Film Group and David Grossman's Film Forum, but repertory powerhouse TLA Cinema/Theater of the Living Arts had stopped showing film entirely, selling their South Street theater to concentrate on the exploding home video business. And some smaller presenters were basing their "film series" around programming shown entirely from VHS tapes. The Philadelphia Festival of World Cinema did not yet exist (though it would launch later that same year).
Schwartz intended to do things differently. He wanted to have quality film presentations using portable 16mm film equipment, but also wanted to program films that were outside of the scope of traditional repertory cinema. The first year of Secret Cinema relied, like other series, on feature films, but mostly cultish films no longer shown in theaters. As the first printed program calendar for the Khyber series put it, Secret Cinema categories might include "teen exploitation, rock 'n' roll, oddball black comedies, psychedelia, "golden turkeys," "psychotronic," '70s nostalgia and much more. All screenings will also include short films -- guaranteed-unusual fare that will draw on bizarre industrial and educational shorts, as well as rare theatrical shorts and cartoons."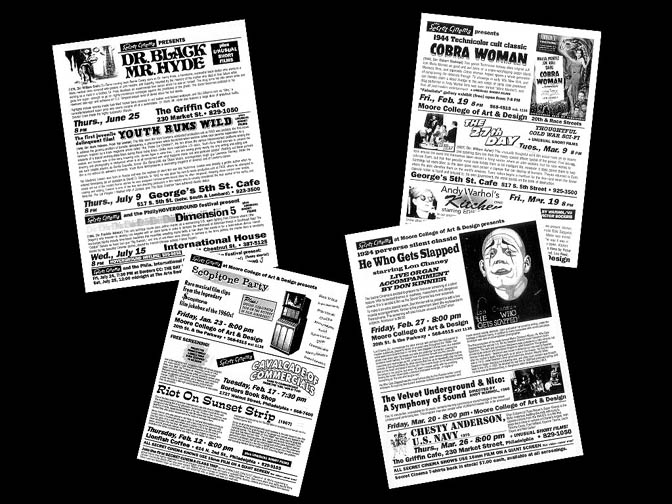 After 1992, the Secret Cinema began to expand its screenings to more venues around the city, including other bars, music nightclubs and coffee houses. Eventually the venue categories grew to include art galleries, college campuses, theaters, libraries, bookstores, museums, and outdoor fields and parks. Secret Cinema programs were added to local film festivals, and Schwartz was soon invited to bring films to places beyond the Philadelphia region. To date, the Secret Cinema has presented films in 112 different venues or festivals, in ten cities and three countries.
Many Secret Cinema screenings after that first season consisted of themed groupings of short films, in every possible category. To make these unique programs possible, the Secret Cinema's private film archive grew exponentially. Initially, the collection fit easily in a small closet. Today, it resides in a large, climate controlled workshop/warehouse, and comprises thousands of reels of 16mm and 35mm film, totaling a few million feet of film (an exact count is not known, though a master inventory is in the works).
Today, the Secret Cinema continues to show a variety of film programs in an assortment of venues, year round. Much has changed in the world of filmgoing, and indeed the world, since we began this project. The internet has reduced or eliminated much of the traditional press upon which we relied, for most of our existence, to reach new audiences. It has also replaced movie theaters and video stores for many movie fans, and all remaining movie theaters have needed to convert either wholly or partially to digital projection. Nearly all of the past presenters of old films noted earlier have ceased operations.
However, the Secret Cinema's mission is unchanged. We still aim to showcase films that audiences would not see if we did not show them, and we still show all of them by showing celluloid film prints. Our records are not complete enough to provide an exact count, but we have probably presented in the neighborhood of 1000 different screenings, each one containing from two to 45 separate films -- and not one of these were shown using video or digital cinema systems.
To celebrate our 25th birthday, through the rest of 2017 we will revive several of our most popular programs, as well as continue presenting brand new programs. Our first anniversary program will happen on Friday, March 10, when we return to the Maas Building to show The Best of Secret Cinema Short Films: The Early Years. This collection of miscellaneous audience favorites will include only films that we presented in our first five years. Other anniversary programs will be announced soon.
Jay Schwartz and the Secret Cinema would like to thank everyone who helped us make it this far: Thanks to everyone in the press who gave us free publicity many hundreds of times (special shout-out to Steven Rea, who gave us our very first press notice, and who just left the Inquirer after 34 years of service to movie fans, as well as the various writers and editors of the City Paper, the 2015 cessation of which dealt a terrible blow to all of the city's arts providers). Thanks to everyone who let us take over their venue for one or more nights, often turning their establishment upside-down for our own purposes (we tried to put things back in place at the end of the night, though!). Thanks to everyone who worked the box office or helped us pack up our considerable amount of equipment (especially my beautiful wife Silvia, who regularly does both). And thanks most of all to every member of our audience, whether they attended once or came back faithfully year after year. We couldn't have done it without you.
---
FUTURE SECRET CINEMA EVENTS (more info soon):
Tuesday, May 23, 2017 @ The Rotunda: TBA
Saturday, June 10, 2017 @ The Rotunda: TBA
---
If you'd like to subscribe to announcements of upcoming Secret Cinema events, then e-mail us by clicking HERE. Please specify in your message where you are located.
Click HERE to learn the history of Secret Cinema.
Click HERE to read about recent Secret Cinema events.
RELATED LINKS:
Channel 29 news piece on Secret Cinema from 1999!
Secret Cinema 1999 Annual Report
Secret Cinema 1998 Annual Report
Secret Cinema 1997 Annual Report
Information about the 1998 Secret Cinema "Class Trip" to the Syracuse Cinefest
---
Last Updated: 4/23/17
WebMasters: Rodney Linderman & Jay Schwartz
© copyright 2017