Last Updated: 12/5/16


ALL SECRET CINEMA PRESENTATIONS ARE SHOWN IN 16MM FILM ON A GIANT SCREEN (NOT VIDEO...NOT EVER!)
---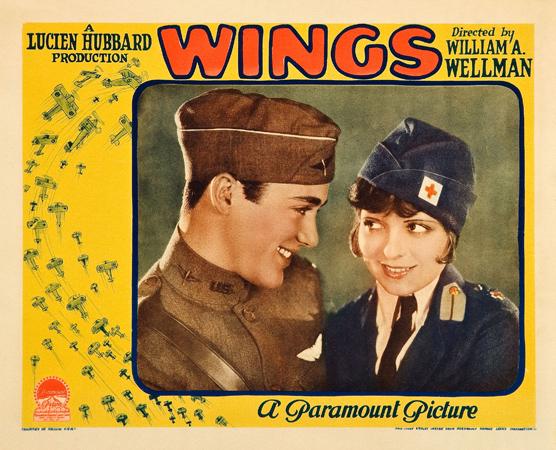 Silent classic Wings, live music
for Chestnut Hill Film Group
Tuesday, December 6, 2016
7:30 pm
Admission: FREE
Woodmere Art Museum
9201 Germantown Avenue, Philadelphia
(215) 247-0476
On Tuesday, December 6, the Secret Cinema will present the classic 1927 silent film Wings at the Woodmere Art Museum, as part of their ongoing Chestnut Hill Film Group series. An exciting drama of World War I fighter pilots with sensational aerial scenes, Wings won the very first Academy Award for Best Picture, and stars "It Girl" Clara Bow as a volunteer ambulance driver in love with flyboy Buddy Rogers. A spectacular tribute to the American flyers of World War I, featuring hundreds of extras and over 300 pilots, born of director William Wellman and screenwriter John Monk Saunders' own experiences with the Lafayette Flying Corps during 'The Great War'.
Providing authentic live keyboard accompaniment will be Don Kinnier, who has played for nearly every previous Secret Cinema presentation of silent movies.
Before the feature, there will be a surprise short film from the Secret Cinema archive.
There will be one complete screening, starting at 7:30 pm (Doors open 6.30 pm). Admission is free.
The Chestnut Hill Film Group is Philadelphia's longest-running repertory cinema series.
About Don Kinnier:
The silent film era, from its tentative first steps to its final artistic masterpieces, lasted for about 35 years. Musician Don Kinnier has been accompanying silent film screenings for over 50 years! Pennsylvania's foremost exponent of this very specialized art form, he has studied the techniques and repertoires of the original theater musicians of the silent era. A Philadelphia native (now based in Lititz), Don has provided the soundtrack for the local Betzwood Film Festival since its inception, as well as for many Secret Cinema events.
CHESTNUT HILL FILM GROUP WEBSITE
---
FUTURE SECRET CINEMA EVENTS (more info soon):
Wednesday, January 11, 2017 @ Bryn Mawr Film Institute: From Philadelphia With Love ("Best of" edition)
Friday, January 20, 2017 @ Fleisher Art Memorial: TBA
---
If you'd like to subscribe to announcements of upcoming Secret Cinema events, then e-mail us by clicking HERE. Please specify in your message where you are located.
Click HERE to learn the history of Secret Cinema.
Click HERE to read about recent Secret Cinema events.
RELATED LINKS:
Channel 29 news piece on Secret Cinema from 1999!
Secret Cinema 1999 Annual Report
Secret Cinema 1998 Annual Report
Secret Cinema 1997 Annual Report
Information about the 1998 Secret Cinema "Class Trip" to the Syracuse Cinefest
---
Last Updated: 12/5/16
WebMasters: Rodney Linderman & Jay Schwartz
© copyright 2016